Matteo Brogi
Professore/Professoressa associato/a
SSD: FIS/05 - astronomia e astrofisica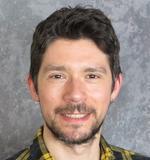 Contatti
0116707912
n/d
Dipartimento di Fisica, Università di Torino
Via Pietro Giuria 1, 10125 Torino
Edificio Nuovo, secondo piano, B3
Presso
Dipartimento di Fisica
Corso di laurea in Fisica
Corso di laurea in Informatica
Corso di laurea in Scienza dei Materiali
Corso di laurea in Scienza e Tecnologia dei Materiali
Corso di laurea magistrale in Informatica
Temi di ricerca
(More info on my personal webpage)
My research focusses on the atmospheres of planets orbiting other stars (exoplanets). I am using spectroscopic observations to measure their physical and chemical properties.
Characterising exoplanets is key to understanding how they form and evolve. My group is developing observational techniques that will be used in the future to target temperate planets and seek potential signatures of life.
My group focusses on both data analysis and modelling of exoplanet spectra. We mostly work with ground-based, high-resolution infrared spectroscopy, and occasionally with broad-band photometry both with ground-based and space telescopes. Thanks to an international network of collaborators, I am currently combining ground observations with Early Release Science data from the newly launched James Webb Space Telescope.